MotionPro is a 100% natural source of chondroitin sulfate and anti-oxidant/anti-inflammatory ingredients, including turmeric, that contribute to the mobility comfort of horses.
"Mijn merrie van 18 jaar oud heeft kissing spines...Ik gebruik nu 1.5 week en ik merk nu al verschil dat ze veel soepeler beweegt en ik vind dit enorm goed!"
Shauny
"Mijn paard was na een dag of 7 al een stuk soepeler Hij loopt nu veel meer ontspannen door zijn lijf. Hij heeft kissing spines waardoor hij altijd wat strak bleef in zijn rug/bovenlijf.Ik heb al allerlei supplementen gegeven, maar Motionpro geeft het beste resultaat. "
Carlina
BENEFITS MOTIONPRO
✔ For lubrication of the joints
✔ For recovery after (heavy) training and/or injury
✔ For stiff muscles
✔ As support for movement discomfort
✔ For sensitive joints and tendons
✔ Under construction of young horse training
✔ For older horses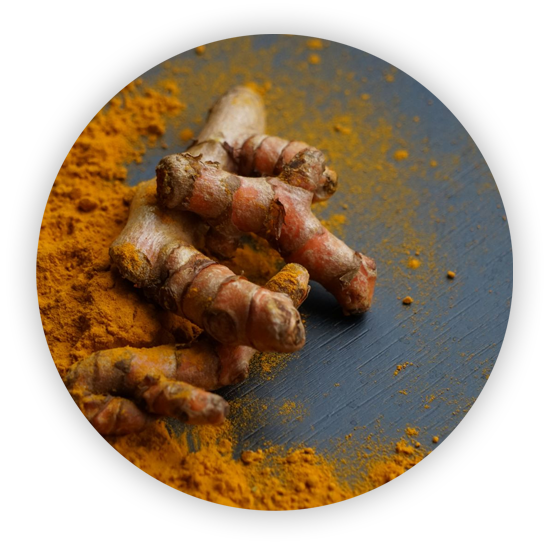 COMPOSITION
✓ Natural Glucosamine: Protection and flexibility of cartilage (shock absorber)
✓ Vegetable Chondroitin (2000mg/40 g): Maintenance and lubrication of joint surfaces, contributes to the production of synovial fluid
✓ Turmeric and black pepper: Natural antioxidant and anti-inflammatory
✓ Lithotam: Absorption of magnesium and calcium
✓ Flaxseed oil (omega 3): Analgesic properties
✓ Horsetail & bamboo: Strengthening joints and bones
Crude protein 10.4% / Crude fat 7.4% / Crude fiber 4.4% / Crude ash 34.7% / Calcium 6.7% / Sodium <0.2%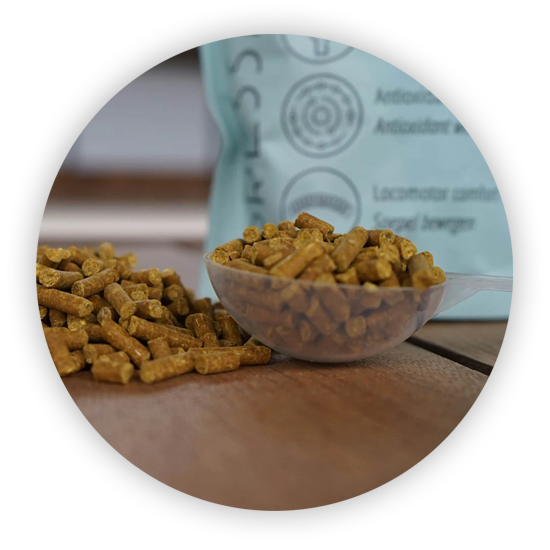 DOSAGE
Adult horses: 20 grams per day (maintenance) or 40 grams per day (boost).
Horses up to 18 months / ponies: 10 grams per day (maintenance) or 20 grams per day (boost).
The package contains 600 grams. One scoop contains 20 grams.
In the event of heavy exertion or problems, 1.5 times the boost dose may be given.
Instructions for use: Mix daily with the feed. Sufficient for 30 days.
FREQUENTLY ASKED QUESTIONS
MotionPro is a supplement based on, among other things. chondriotin and glucosamine to support flexible muscles and joints. It is certainly a product that can provide very good support for recovery and reconstruction after an injury and during / in case of movement discomfort.
Yes, you can do that very well with the exception of the DetoxPro. The DetoxPro should not be given in combination with the other supplements.
No, we advise against doing this. Turmeric, a component in the DetoxPro and the MotionPro, can be harmful to pregnant mares. We will, however, be introducing a supplement in the spring that is suitable for mares that have just had a foal to give the foal a boost of the immune system through the mother's milk.
No extra sugar or starch is added to the supplements. We cannot claim 100% that it is starch and sugar free as there is a chance that there is a small amount in the existing ingredients.
It is not a medicine and the products are based on natural ingredients, so it has a slightly longer processing time. Normally you will see the first effects around 7-10 days after starting feeding. Of course, this depends on other environmental factors that play a role.
No. The MotionPro, and the other supplements, are produced in an OQUALIM-STNO certified factory and are suitable as feed without GMO <0.9%. It is therefore produced GMO-free. ​
Ordered before 4 p.m. every working day is shipped the same day.
You can return the product within 14 days.