Want to increase the overall performance of your sports horse?
Then the Sports Bundle is perfect for you!
ActivePro supports the muscle function and vitality of your horse, while MotionPro's ingredients are known for the support of joints and therefor help with the flexibility and looseness.
We've decided to bundle MotionPro and ActivePro, after very positive feedback from our clients. They say that the effect of MotionPro and ActivePro is much higher when fed together. 
"Ik gebruikte al langere tijd de MotionPro en had daar al zo goede resultaten mee! Nu de sportbundel er is gekomen ben ik helemaal tevreden. Mijn paard is veel losgelatener waar hij voorheen nogal snel spanning kon pakken is hij nu veel relaxter. Hij doet het op deze combinatie super, loopt met veel souplesse en is blij in het werk. "
Betha van der Linden (Zware Tour)
"Al een tijdje gebruik ik nu MotionPro samen met ActivePro en ik merk dat mijn Arabisch volbloed een stuk minder stijf is!Hij heeft van nature veel pit maar deze supplementen maken hem niet kijkerig of sensibeler ! Vroeger had hij meer last van opstart problemen aan het begin van een training maar nu begint hij al meteen soepel"
Rubia Akse
BENEFITS SPORT BUNDLE
✔ Perfect for sport horses in training to increase overall performance
✔ For lubrication of the joints
✔ For recovery after (heavy) training sessions and/or injury
✔ For stiff muscles
✔ As support for movement discomfort
✔ For sensitive joints and tendons
✔ Under construction of young horse training
>✔ Improves vitality and performance
✔ Contributes to muscle function and building muscles
✔ For support during recovery and building phase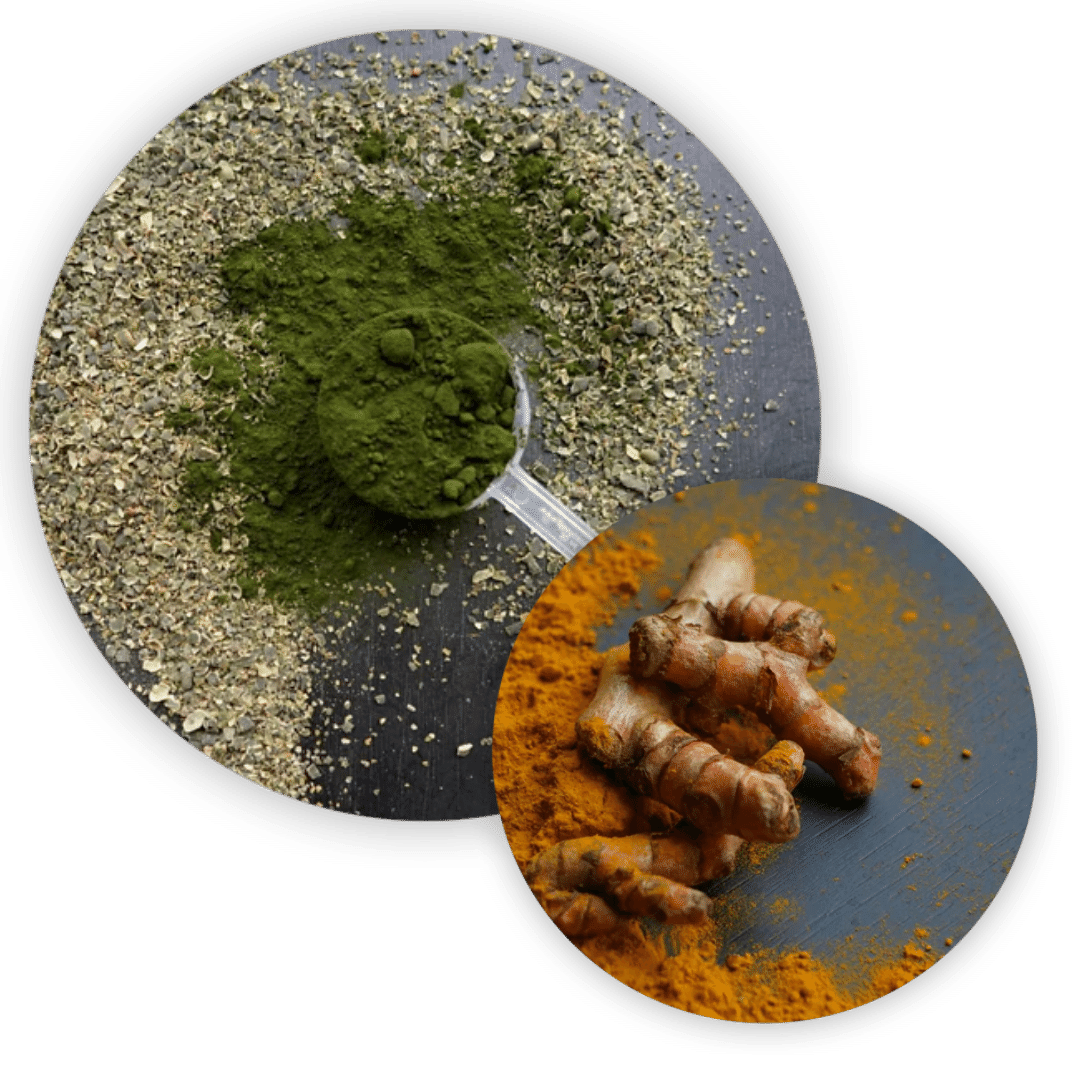 COMPOSITION OF SPORT BUNDLE
MOTIONPRO COMPOSITION:
✓ Natural Glucosamine: Protection and flexibility of cartilage (shock absorber)
✓ Vegetable Chondroitin (2000mg/40 g): Maintenance and lubrication of joint surfaces, contributes to the production of synovial fluid
✓ Turmeric and black pepper: Natural antioxidant and anti-inflammatory
✓ Lithotam: Absorption of magnesium and calcium
✓ Flaxseed oil (omega 3): Analgesic properties
✓ Horsetail & bamboo: Strengthening joints and bones
Crude protein 10.4% / Crude fat 7.4% / Crude fiber 4.4% / Crude ash 34.7% / Calcium 6.7% / Sodium <0.2%
ACTIVEPRO COMPOSITION:
Spirulina (20%), extruded soybeans, lithotam, yeast extract, inactive yeast, sodium chloride, extruded flaxseed.
Additives (per kg): Selenium (CNCM I-3399) (3b8.12): 20 mg, Bentonite (1m558) 100,000 mg
Flavors: Dried grape pomace extract (2b485): 330 mg
Raw protein 27.3% / Raw fat 6.7% / Raw fiber 2.4% / Raw ash 37% / Insoluble ash in HCI 8.2% / Calcium 6% / Magnesium 0.5% / Sodium 3.3%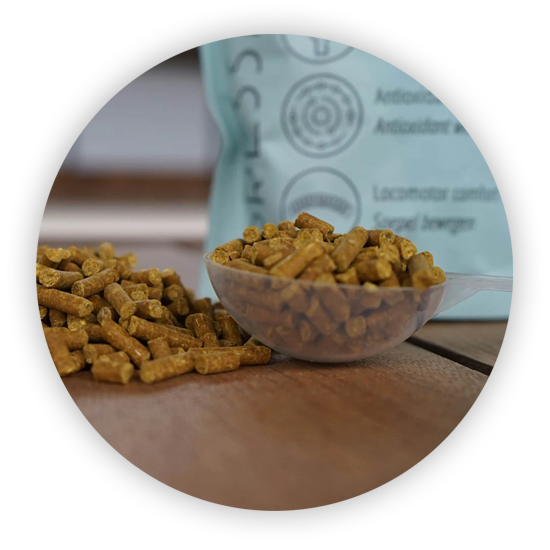 DOSAGE
Instructions for use: Mix daily with the feed. Sufficient for 30 days.
ACTIVEPRO INSTRUCTIONS:
Adult horses: 40 grams per day (maintenance) or 80 grams per day (boost).
Horses up to 18 months / ponies: 20 grams per day (maintenance) or 40 grams per day (boost).
The package contains 1,2kg. One scoop contains 20 grams.
MOTIONPRO INSTRUCTIONS:
Adult horses: 20 grams per day (maintenance) or 40 grams per day (boost).
Horses up to 18 months / ponies: 10 grams per day (maintenance) or 20 grams per day (boost).
The package contains 600 grams. One scoop contains 20 grams.
FREQUENTLY ASKED QUESTIONS
Yes, you can do that very well with the exception of the DetoxPro. The DetoxPro should not be given in combination with the other supplements.
We advise against giving MotionPro to pregnant mares. Turmeric, a component in the DetoxPro and the MotionPro, can be harmful to pregnant mares. We will, however, be introducing a supplement in the spring that is suitable for mares that have just had a foal to give the foal a boost of the immune system through the mother's milk.
No extra sugar or starch is added to the supplements. We cannot claim 100% that it is starch and sugar free as there is a chance that there is a small amount in the existing ingredients.
It is not a medicine and the products are based on natural ingredients, so it has a slightly longer processing time. Normally you will see the first effects around 7-10 days after starting feeding. Of course, this depends on other environmental factors that play a role.
No. The MotionPro, and the other supplements, are produced in an OQUALIM-STNO certified factory and are suitable as feed without GMO <0.9%. It is therefore produced GMO-free. ​
Ordered before 4 p.m. every working day is shipped the same day.
You can return the product within 14 days.